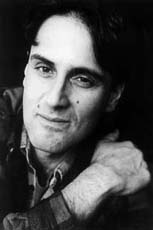 Author of Snow Falling on Cedars
and East of the Mountains
David Guterson's debut novel, Snow Falling on Cedars, won the 1995 PEN/Faulkner Award for fiction — the largest annual juried literary prize in the United States. He joins the ranks of notable previous winners Phillip Roth, E. Annie Proulx, and E. L. Doctorow.
Snow Falling on Cedars also won the Barnes & Noble Great New Writers Award, the Pacific Northwest Booksellers Association Book Award and the American Booksellers Book of the Year (ABBY) award. It spent a year on the national bestseller lists and has sold over 3 million copies in 25 different languages all over the world.
Guterson was co-producer of the 2000 film adaptation of Snow Falling on Cedars and collaborated closely with Academy Award-winning director Scott Hicks.
Guterson is also the author of a collection of short stories, The Country Ahead of Us, the Country Behind, and a work of non-fiction, Family Matters: Why Homeschooling Makes Sense.
His second novel, East of the Mountains, was published by Harcourt Brace in April 1999 garnering widespread critical acclaim and spending over two months on the New York Times bestseller list.
A former high school English teacher, he is also a contributing editor of Harper's magazine.