'Video Games and Learning' pilot MOOC launches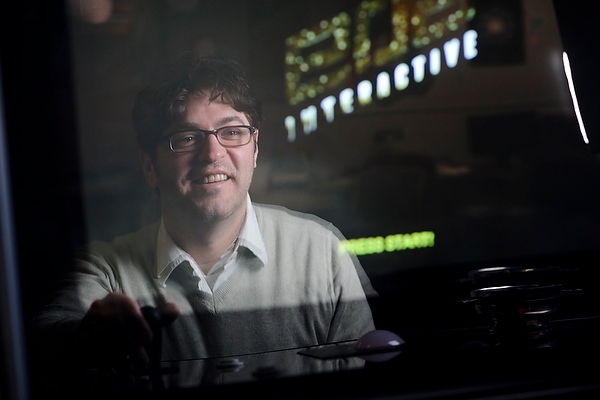 Kurt Squire, professor of digital media in curriculum and instruction, and co-director of the Games+Learning+Society (GLS) center within the Wisconsin Institute for Discovery, is reflected in the screen of an interactive video game.
Photo: Jeff Miller
Kurt Squire has enrolled in about a dozen Massive Open Online Courses (MOOCs).
"The experience was fun — to essentially be back in college again, but to feel like I'm doing so driven by my own interest without the pressures of grades and so on," Squire says.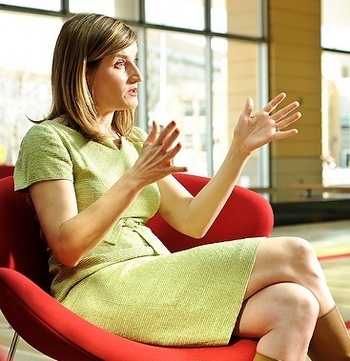 Constance Steinkuehler
Photo: Bryce Richter
Now Squire, a professor in the School of Education's Department of Curriculum and Instruction, along with Constance Steinkuehler, an associate professor of digital media in the department, will teach a MOOC — Video Games and Learning — beginning today (Oct. 3). It's the UW's first-ever pilot MOOC.
Squire and Steinkuehler are co-directors of the Games+Learning+Society Center within the Wisconsin Institute for Discovery. More than 30,000 people have signed up for the free six-week course, which will discuss research on the kinds of thinking and learning that goes into video games and gaming culture, benefits and drawbacks of digital gameplay, tensions between youth culture and traditional education, and new developments intended to bridge that growing divide.
"I've seen the openness of MOOCs as a tremendous driver of change with dramatic potential to help curricular alignment, knowledge sharing and, potentially, learning," Squire says.
While content differs, MOOCs provide access to instructors from universities all over the world by connecting learners through technology. Students watch videos, take quizzes, read materials and participate in online discussions with fellow learners from around the globe. MOOCs also allow students to learn at their own pace.
The course is one of four free pilot MOOCs offered by UW–Madison.
"Video Games and Learning" is made possible, in part, by a gift from Susan Shannon Engeleiter and Data Recognition Corporation, a Minnesota-based company with an office in Madison.
While a learning experience for students, it's also been an education for MOOC instructors such as Squire, who discusses what role he thinks MOOCs may play in the future of education.
Q: Will MOOCs and other online components replace the traditional classroom?
A: I don't think that they will ever replace the traditional classroom, but they will reshape them. The process of making MOOCs leads to the collection and generation of quality educational materials that can be reused and remixed by others, including in traditional classrooms. MOOCs will also force us to critically examine what we're doing in some of the larger lecture classrooms, and most certainly, professionally developed content through MOOCs will supplement these courses.
As a social-learning theorist who believes that most meaningful learning occurs through social interaction, I don't think that MOOCs will replace the kinds of social interactions that occur at universities, or when groups formally meet together.
MOOCs have other particulars — like the way that people audit and sample them — that I believe will make them become their own unique "beast." I'm thrilled to think that it might help support lifelong learning, particularly in an age in which it's increasingly important.
Q: What is the key to making a MOOC successful?
A: I don't think that we know yet. However, a real key seems to be supporting the many different ways that people engage in MOOCs. In my own field, Mimi Ito and colleagues have a framework for how youth learn with digital media that is abbreviated as "hanging out, messing around and geeking out." I think that it's a useful framework for MOOCs. How do you support those who want to just survey the content and get a feel for it? How do you create real opportunities for deep engagement with ideas? How do you support meaningful interaction?
Too often, we've been trained to think in terms of "one size fits all" — as if everyone should have the experience or get the same things out of courses. That constraint is no longer there, and sometimes it's a challenge to get everyone to understand that it's expected that no two people will have the same experience in a course, want the same things out of it, or complete the same amount of work.
Q: What learners do you think benefit most from having a MOOC as an option?
A: The ability to experiment with an idea (and their interest at it), at their own pace. For example, I'm interested in dabbling in some machine-learning techniques from computer science, but I'm not sure if I have the time, bandwidth or really sufficient interest to take an entire course. This is a low-risk, cheap way to explore if it's of interest. Same is true for me in a course on songwriting that I'm taking.
Q: What do you say to people who are unsure of the role MOOCs will play in the future?
A: No one knows what they will be. I tell them, though, to always keep in mind that "information wants to be free" in an online age — meaning that with near frictionless distribution, it's relatively trivial to record a lecture and have it freely available to everyone. The old models of scarcity that many learning institutions were built on simply don't apply. Whether it's MOOCs, online affinity spaces, local meet-ups or something else entirely, it's highly unlikely that universities will look just as they do now 20 years from now. Also, the best implementations will see MOOCs working in concert with traditional courses as content is passed back and forth and so on. Perhaps completion of MOOCs will be a prerequisite for getting into college some day.
Q: What is one thing students will learn from your MOOC?
A: Hopefully, the students' backgrounds are diverse enough and the experience is rich enough that everyone will take away something a little different. One key idea organizing the course is that games are rich representational systems capable of producing meaningful experiences with sometimes surprising impact.