UW-Madison Day at the Wisconsin State Fair is Aug. 7
August in Wisconsin means one thing: the Wisconsin State Fair. UW–Madison will again have a featured presence at the annual event on Wednesday, Aug. 7.
On Central Mall, fairgoers can experience UW research at hands-on exploration stations, test athletic skills and experience the "Wonders of Physics." Experts from departments across campus from entomology to engineering will be on hand to answer questions and give demonstrations of their research. The day also features presentations on the art of making cheese and sausage and samples will be available.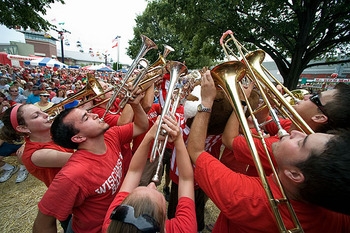 Members of the UW Marching Band will make a return appearance at UW–Madison Day at the Wisconsin State Fair Aug. 7.
Photo: Jeff Miller
"Because we're a land grant institution, so much of what we do is reflected at the fair," says Tricia Dickinson, UW–Madison marketing director. "We're involved in so many important parts of our state — agriculture, health and environment — and this is one place for us to showcase it." The Wisconsin Alumni Association partners with the university again this year for this celebration of service and outreach.
Fairgoers will get a chance to "jump around" at an authentic pep rally led by the UW–Madison Spirit Squad, and the recently restored and environmentally friendly Bucky Wagon will lead the daily 3 p.m. parade with Bucky Badger and the UW Marching Band.
Sports fans can test their skills with Badger inflatable athletic activities and see trophies such as the 2011 Big Ten Championship and Paul Bunyan's Axe, retained by Wisconsin as part of the eight-year victory streak in Wisconsin-Minnesota football games.
UW-Madison Day at the State Fair also aims to benefit Milwaukee-area children in need of school supplies while giving fairgoers a discount on admission. Fairgoers who make either a donation of a new, unopened school supplies, or a cash donation to the Wisconsin Alumni Association that will be contributed toward supplies, will receive $4 off adult admission until 4 p.m. Volunteers will be stationed at fair entrances to collect donations and to direct visitors to the festivities in Central Mall.
—Sean Kirkby