UW Arboretum director finalists announced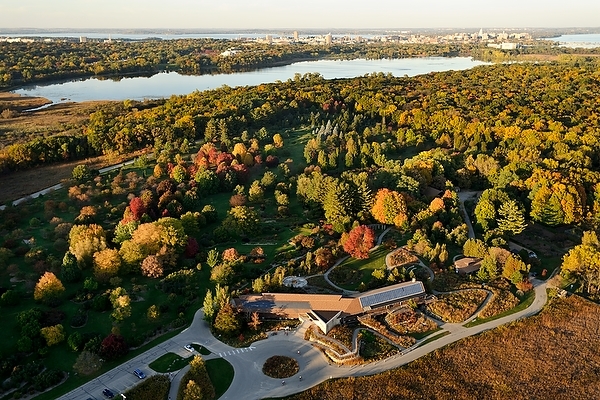 The UW Arboretum's Visitor Center is pictured in an aerial view. From foreground to horizon are Curtis Prairie, Longnecker Gardens, Lake Wingra, and the UW–Madison campus and downtown Madison skyline.
Photo: Jeff Miller
Finalists hoping to become the next director of the UW Arboretum will visit campus for public presentations starting Wednesday, Feb. 26.
A six-member committee made up of faculty and staff and chaired by Don Waller, professor of botany, screened a pool of applicants and narrowed it to three candidates.
The finalists are:
Kayri Havens, Medard and Elizabeth Welch Director of Plant Science and Conservation and senior scientist at the Chicago Botanic Garden, Glencoe, Ill.
Havens joined the staff of the Chicago Botanic Garden in 1997 after three years as a conservation biologist at the Missouri Botanical Garden. Her research interests span reproductive ecology and conservation of plant species — including cardinal flower, great blue lobelia and a threatened thistle species — and the responses of native species to changed climates. She is also an adjunct instructor of conservation biology at Northwestern.
Havens holds a doctorate in plant sciences from Indiana University.
Steven McNulty, director of the U.S. Department of Agriculture's Southeast Climate Hub and professor of forestry and environmental resources at North Carolina State University.
McNulty, a supervisory ecologist at USDA's Eastern Forest Environmental Threat Assessment Center, has been a member of the NC State faculty since 1999. His undergraduate degree is from UW–Madison, and included field work in the Arboretum's Noe Woods. Since then, he has worked to scaling up ecosystem-level processes to better understand regional-level effects of acid rain, water use and hurricane-caused loss of carbon sequestration.
McNulty earned a doctorate in natural resources from the University of New Hampshire.
Donna Paulnock, professor of medical microbiology and immunology and associate dean for the biological sciences in the Graduate School at UW–Madison.
Paulnock, who joined the UW–Madison faculty in 1983, is the interim director of the UW Arboretum, and has served as interim director of the Wisconsin National Primate Research Center. Her research focuses on macrophages, a cell produced by the immune system, and how parasitic infection shapes its host's immune response.
Paulnock's doctorate in immunology is from Stanford University.
The candidates will visit campus over the next two weeks to meet with faculty, staff, students, administrators and other groups. Their visits will include presentations open to the entire campus community on the following dates:
• Havens, campus presentation, "Restoration Challenges in a Changing World," 4 p.m. Feb. 26, Room 184 in Russell Labs, 1630 Linden Drive; Arboretum presentation, "The Changing Roles of Botanic Gardens and Arboreta: Positioning the University of Wisconsin Arboretum for Future Opportunities and Challenges," 3 p.m. Feb. 27 (with a 2 p.m. meet-and-greet), auditorium, Arboretum Visitors Center, 1207 Seminole Highway
• McNulty, Arboretum presentation, "What Would Aldo Do?: Continuing Leopold's Conservation Vision through the 21st Century," 4 p.m. March 3 (with a 3 p.m. meet-and-greet), auditorium, Arboretum Visitors Center; campus presentation, "Expanding and Enhancing the Research Scope of the UW Arboretum," 11 a.m. March 4, Room A228, Russell Labs.
• Paulnock, Arboretum presentation, "Prairie Fire: A Vision for Change and Rejuvenation at the Arboretum," 4 p.m. March 6, (with a 3 p.m. meet-and-greet), auditorium, Arboretum Visitors Center; campus presentation, "Interdisciplinary Collaboration as the Key to Scientific Success at the UW–Madison Arboretum," 10:45 a.m. March 7, Room 1111, Biotechnology Center, 425 Henry Mall.
The successful candidate will succeed Paulnock, who took over leadership of the Arboretum on an interim basis in 2012 after director Kevin McSweeney stepped down to return full-time to teaching.