Sims, Paredes to take on new diversity responsibilities
As Damon Williams departs from his position as UW–Madison's chief diversity officer, two campus figures involved in efforts to create a more inclusive university will help guide its diversity initiatives over the next year.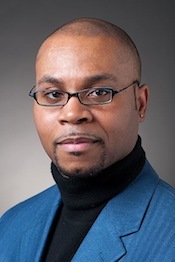 Patrick Sims
Patrick Sims, associate professor of acting and director of the Department of Theatre and Drama's Theatre for Cultural and Social Awareness (TCSA), will serve as interim vice provost for diversity and climate. He will lead the Division of Diversity, Equity and Educational Achievement (DDEEA) while continuing his academic work part-time.
In addition, Ruby Paredes, assistant vice chancellor for diversity and climate, will serve as interim associate vice provost, providing expertise to assist in leading the DDEEA.
"UW-Madison has made great strides in diversity efforts, but we always have more work to do," says Provost Paul DeLuca. "In addition to their strong academic backgrounds, the unique combination of Patrick's teaching connections and Ruby's comprehensive grasp of campus history will help us meet critical institutional needs as we continue to move forward."
Sims and Paredes will remain in their interim roles until a search and screen committee has completed a national search for a permanent vice provost.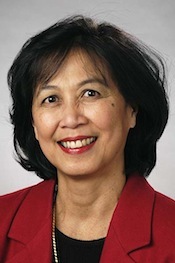 Ruby Paredes
Sims joined the UW–Madison faculty in 2004. As director of TCSA, as well as a founding member and artistic director of the Human Experience Theatre (HET) at UW-Milwaukee, Sims has led interactive theatre-based training models that dramatize sensitive subject matters for universities, corporate and nonprofit organizations in the United States. He is also faculty director of UW–Madison's "The Studio" Creative Arts and Design residential learning community, and co-moderated the Big Learning Event in both 2011 and 2013.
A first-generation college student himself, Sims understands the realities faced by students who inhabit multiple identities, particularly when issues of race, gender, class, culture and sexual identity collide.
"I'm excited to get this opportunity to work with Ruby, building on the work that Damon began and making the work personal," says Sims. "I'm looking forward to finding and strengthening the kinds of partnerships, and developing new partnerships, that will allow this work to live on a more personal scale."
Paredes, in addition to her current role as assistant vice chancellor, is a faculty fellow at the Center for Southeast Asian Studies. She is a key member of UW–Madison's Ad Hoc Diversity Planning Committee (AHDPC), working to create a new blueprint for campus diversity efforts. In 1999, she helped found PEOPLE, a program providing a pre-college experience that prepares students from underrepresented minority and first-generation/disadvantaged backgrounds to attend college.
"UW-Madison has made great strides in diversity efforts, but we always have more work to do."
Paul DeLuca
Originally from the Philippines, Paredes is passionate about globalizing student educational experiences. In 2011, she received the Multicultural Student Center's Outstanding Faculty/Staff Award for her  dedication to diversity efforts.
"We're looking forward to continuing to strengthen our collaborative efforts and moving forward," says Paredes. "This is especially important as we move toward implementing a new diversity framework for the university within the coming year."
The Division of Diversity, Equity and Educational Achievement aims to addresses the university's strategic diversity interests by enhancing strategic impact, collaborative possibilities and equitable educational outcomes on local, national, and global levels. Component units include the Center for Educational Opportunity, the Office for Equity and Diversity, the Office of Multicultural Arts Initiatives/First Wave, PEOPLE and Posse.
The division works to make progress toward increasing access for all qualified students, especially for underrepresented minorities and women in the STEM areas; eliminating the achievement gap between majority and underrepresented students; recruiting and retaining a more diverse faculty and staff; preparing all students, staff and faculty to thrive personally and professionally in a diverse, global, interconnected world; and enhancing the campus climate for inclusion.
Williams is leaving the university to become senior vice president for programs, training and youth development for the Atlanta-based Boys & Girls Clubs of America.