PEOPLE high school students celebrate completing pre-college program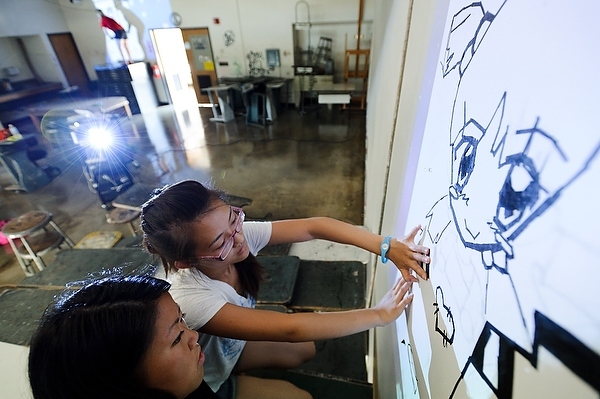 Standing in the glow of their own computer-projected drawings, Hmong high school students Yer Lee (wearing eyeglasses) and Mia Yang, both participants in the PEOPLE fine arts internship, create a tape mural on the wall of a Mosse Humanities Building classroom.
Photo: Jeff Miller
High school scholars in UW–Madison's PEOPLE (Pre-College Enrichment Opportunity Program for Learning Excellence) and incoming PEOPLE college freshmen from across Wisconsin will be feted for their accomplishments at the program's annual recognition banquet Friday, Aug. 2.
The class of 136 PEOPLE scholars and 90 incoming first-year students are part of the long-term diversity program designed to increase the number of college-ready students applying to the state's flagship campus.
"Wisconsin has a tremendous tradition of developing its best and brightest to continue the cutting-edge growth and development trajectory the state is known for," says UW–Madison Vice Provost and Chief Diversity Officer Damon Williams, who heads the division housing PEOPLE. "We are proud to partner with educators, community partners, parents and stakeholders — all of whom share this vision and contribute unfailingly to the PEOPLE program's success."
From 2002 to 2012, all 1,348 students who completed the PEOPLE precollege program have graduated from high school. Of those, 94 percent have enrolled in higher education.
The banquet will be held at the Alliant Energy Center, Exhibition Hall D, at noon, featuring public school superintendents Gregory Thornton of Milwaukee and Jennifer Cheatham of Madison. UW–Madison Vice Chancellor for Finance and Administration Darrell Bazzell will also be part of the program.
The event will showcase the high school seniors who have just completed their final summer of year-round training for college, including ACT testing and internships with departments across the UW–Madison campus and throughout the community. The program also will feature the largest incoming group of PEOPLE college scholars who are completing a bridge-to-college program, which allows them to earn college credit going into their college freshman year.
From 2002 to 2012, all 1,348 students who completed the PEOPLE precollege program have graduated from high school. Of those, 94 percent have enrolled in higher education. More than half have enrolled at UW–Madison, while 19 percent have enrolled at other UW System campuses. Another 30 percent enrolled in other universities and colleges around the state and country.
"One of the major philosophies of PEOPLE is 'lifting as we climb,'" says director Jacqueline DeWalt. "In addition to playing a major role in campus diversity efforts, PEOPLE high school and college scholars have rendered mentoring, tutorial, community outreach, student leadership and other urgent support services to underserved communities on a local and global level."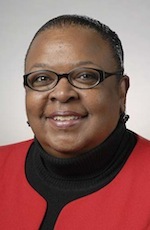 Jacqueline DeWalt
This year, PEOPLE continued its partnership to provide training in urban agriculture through the College of Agricultural and Life Sciences with Growing Power of Milwaukee. PEOPLE also continued to partner with the Doris Duke Charitable Foundation in cooperation with the surgery department of the University of Wisconsin School of Medicine and Public Health to provide surgical training internships. PEOPLE now has partnerships and college-scholar graduates from all of the university's schools and colleges.
This also is the second year in partnership with Milwaukee Public Schools' GEAR UP project, in which PEOPLE provides outreach services and access to UW–Madison teaching, learning and service resources. More than 2,300 6th through 12th grade low-income students from Milwaukee Public Schools are served through this partnership. Morse-Marshall middle and high school has been adopted by PEOPLE and is currently receiving targeted intensive college preparation services.
"Consistent with the Wisconsin Idea, our goal is to develop a well qualified pool of community-conscious college graduates from within the State of Wisconsin who are fully capable of improving the economic conditions and global competitiveness of communities throughout the state," says DeWalt.
National corporations seeking to diversify their work force that support PEOPLE include AT&T, American Family Insurance Group, CUNA Mutual Group, Target, John Deere Foundation, Rockwell Automation, Procter & Gamble and British Petroleum, along with numerous Wisconsin state agencies.