Parent Program goes global with Chinese site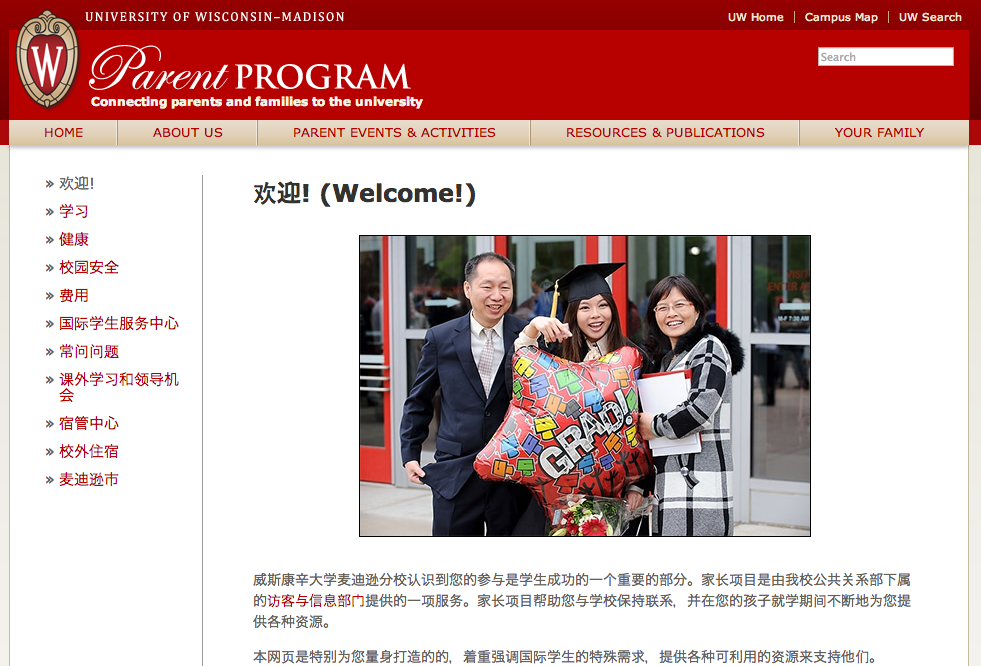 UW-Madison students studying far from home may have access to many campus resources, but their parents don't always have the same support — especially when they don't speak the same language.
Students from China make up the largest international undergraduate student population on campus. Since August, the Parent Program has reached out to parents who speak Mandarin Chinese with a new corner of the updated Parent Program website.
"It can be challenging to know how to best support your student when you are in another time zone, let alone when the culture and country may be unfamiliar to you," says Stephanie Benson-Gonzales, Parent Program specialist. "By sharing photos, student quotes and information about key resources and services, we hope to empower parents to support their students' success."
Overall, the content is fairly similar to the English language site, addressing universal concerns: Is the campus safe? How will my student make friends? What will my student do if he/she is sick? The Chinese site includes information about academics, health, campus safety, finances, International Student Services, FAQs, Out-of-Class Learning and Leadership Opportunities, University Housing, Off-Campus Housing and the City of Madison.
However, the feedback from student and parent surveys, campus partners and student focus groups also highlighted some key cultural differences.
"The academic environment at UW–Madison may be very different from the experience students from China had before coming to the United States," says Benson-Gonzales. "Questioning your professor's ideas or an assertion in a reading, the casual atmosphere of a college classroom and the concept of academic integrity are all things we explain. Other things, like how to obtain an invitation letter if you would like to visit your student, are logistical differences that we wanted to highlight."
Multiple offices, groups and individuals on campus helped with the site's creation, underscoring the importance of UW–Madison's continuing relationship with China. UW–Madison's Office of Cultural Linguistic Services has been a major partner, translating the first full draft of the site.
Others helped with the translation, passing between several sources in hopes of providing the most accurate content. The Chinese Student and Scholar Association (CSSA) and the Chinese Undergraduate Student Association (CUSA) helped recruit students for focus groups as well as translation assistance; David Joiner of the Division of International Studies recommended additional students for editing help.
"We wanted multiple eyes with multiple perspectives to translate, edit and review the Chinese content," says Benson-Gonzales.
The Parent Program already offers a section in English for international families. Since May of 2012, portions of the site — including a question-and-answer service and an FAQ page — have been accessible in Spanish, offered through the Office of Cultural Linguistic Services.
Down the road, the Parent Program hopes to make the entire site's content available in Spanish, as well as provide a translated FAQ in Hmong.
"We want our program and the information we share to be as accessible as possible," says Benson-Gonzales. "We see the growth of our translated services as a way to allow more parents to learn about UW–Madison, feel included in our campus community and connect their students to campus resources."