Fan excitement builds for Badgers' trek to the Final Four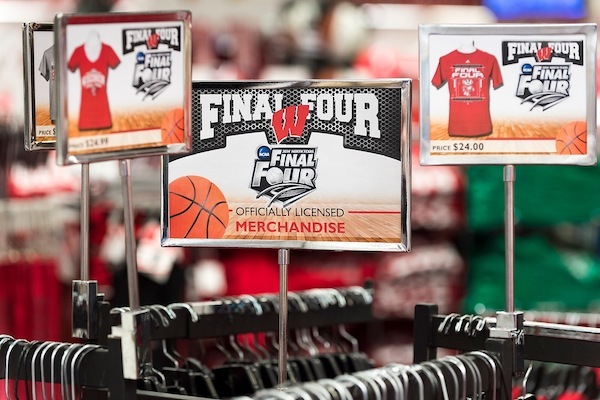 Final Four merchandise is a hot commodity this week as the enthusiasm builds for Badger basketball.
Photo: Jeff Miller
Sleeping.
That's what Kate Roeder would usually be doing at 6 a.m. Fridays.
"But this is worth getting up early for," says Roeder, a 21-year-old junior majoring in journalism.
Roeder and about 150 fellow students were busy boarding three buses headed from outside of the Kohl Center in Madison to Dallas to watch the Wisconsin Badgers' first appearance in the Final Four since 2000.
The national title is at stake at the AT&T Stadium in North Texas, something the Badgers haven't won since 1941. Everyone wants a share of the history, the fun, the excitement – and the income – tied to this Wisconsin run to the Final Four.
As the Badgers inched closer to the Final Four, the enthusiasm on campus and off surged.
Cindy Van Matre, the university's trademark and licensing director, started seeing art designs for licensed products more than a month ago. Van Matre has worked for UW–Madison since 1999 and remembers the Badgers' last trip to the Final Four in 2000 well.
"We're seeing a lot more online sales. People are more accustomed to buying that way," Van Matre says. "We're able to reach Badger fans all over the world."
In 2013, UW ranked 13th among the Collegiate Licensing Corporation's 160 colleges and universities and fourth among CLC's Big Ten clients with gross royalties of $3,850,776. Half the proceeds from licensed UW merchandise sales go to Bucky Grants, a program that provides need-based financial aid to undergrads.
The Badgers' trip to the Final Four is obviously helping with sales, especially during what is typically a pretty quiet time of year.
"What I'm hearing from stores is they're usually selling out within two hours," Van Matre says. "It's turning over quickly."
Designers are always planning ahead so, in the event of a Badger win, there will be more merchandise ready to go.
"Winning would easily double what our Final Four royalties will be," Van Matre says.
Sales of all things Badger have been brisk at the University Bookstore's locations, said University Bookstore Vice President Kevin Phelps.
Phelps estimates they're about three or four times busier than the last time the Badgers went to the Final Four in 2000.
"There's a different level of excitement," Phelps says. "Their style of play is fun and they've kind of become a media darling. We have a real possibility of winning it all."
So what's his guess on Saturday's outcome?
"I don't make predictions," Phelps says. "I'm too busy selling T-shirts."
Students get settled on buses outside the Kohl Center prior to departing for the Final Four.
Photo: Käri Knutson
Back at the Kohl Center bus stop, Allison Seipts, 21, a junior majoring in psychology, had a test scheduled for Friday but was thankful to be able to take it on Thursday instead.
"I couldn't sleep," Seipts said. "I was worried about missing the bus. And we weren't going to miss this."
Going to Dallas meant a lot of students had to double up on homework or take tests in advance, a small price to pay, Roeder says.
"Even my mom said this was a once in a lifetime opportunity and that I should go," Roeder says. "And when your mom tells you to go …"
Dressed in red, the students boarded the bus bringing pillows, iPods, coffee and other small comforts for the 18-hour ride.
No one was "jumping around" yet. Perhaps fans were conserving their energy for Dallas. But one of the most excited was Bill Becker, a bus driver with Go Riteway Transportation Group.
"'There's not enough noise here,'" Becker told students boarding the bus. "It looks like they're not awake. They'll probably wake up for the second half."
"Even my mom said this was a once in a lifetime opportunity and that I should go. And when your mom tells you to go …"
Kate Roeder
Becker has driven bus for years. He'll be driving them halfway to Dallas and then halfway back on Tuesday.
"This job is fun," Becker says. "We're going all the way."
Among the more lively was Thomas Hart, a sophomore majoring in computer science from Blaine, Minn.
"There was no doubt I was going," Hart says. "No matter what happens, I'll remember this for the rest of my life."
Hart was on the fence about where to go to college until he visited UW–Madison.
"My heart felt this was the right place – just seeing the campus and the way students treat each other," Hart says. "This place is special."
Hart, decked out in the ever-popular red-and-white-striped Badger overalls, had his game plan all figured out for the bus ride.
"I'm going to make some new friends," Hart said. "I'm not sleeping."
The bus was scheduled to leave at 7 a.m. Emma Lorge, an undeclared freshman, and Troy Mielke, a freshman pre-business major, rolled in at 6:58 a.m. – just under the wire.
"We knew we were cutting it close," Lorge said, "but we're here now. This is once in a lifetime."
While there was no official dress code, the unwritten rule was red.
Lots and lots of red.