Chazen exhibit examines art and cartography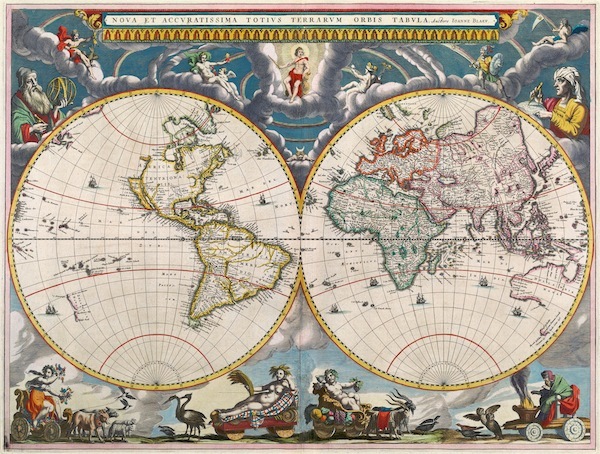 Marginal decoration of Joan Blaeu's Nova et accuratissima totius terrarum orbis tabula, on a work from 1662. The work makes the map a celebration of the Copernican heliocentric universe and links the map with the four seasons.
Credit: Osher Map Library at the University of Southern Maine
The subject of one exhibit at the Chazen Museum of Art is marginal. Literally.
"Marginalia" was coined in the early 19th century to mean the notes, scribbles, and doodles that readers have added to the margins of books and manuscripts since antiquity.
Marginalia in cARTography, which runs through May 18, explores the images on the margins of maps dating from the 13th century through the 1960s.
The exhibit includes nearly 50 maps drawn from 13 libraries across the country, including UW–Madison's Department of Special Collections and the Robinson Map Library.
This exhibition explores the visual discourse between marginal artistic images—sometimes humorous, sometimes poignant—and the maps where they appear.
Willem Janszoon Blaeu's Nova Totius Terrarum Orbis Geographica ac Hydrographica Tabula, was done in 1635. Its borders illustrate the four elements, seven planets, four seasons, and Seven Wonders of the Ancient World.
Credit: Department of Special Collections, Memorial Library, UW–Madison
The marginalia sheds light on the content and purpose of the maps, their authors and patrons, and on the historical period when they were made. The exhibition also explores cartography as an art form, with a focus on the representations in the map margins.
Marginalia in cARTography is guest curated by Sandra Sáenz–López Pérez, an art historian who specializes in the iconographical analysis of maps and the artistic interest of historical cartography. 
Generous support for this exhibition has been provided by the Chazen Museum of Art Council and the Wisconsin Arts Board with funds from the State of Wisconsin and the National Endowment for the Arts.
Curator Sandra Sáenz-López Pérez was the 2012-13 David Woodward Memorial Fellow in the History of Cartography. Her research for the exhibit was conducted during this two-month fellowship, which was made possible by the generosity of Arthur and Janet Holzheimer and hosted at UW–Madison by the History of Cartography Project and the Institute for Research in the Humanities.