Campus mourns the loss of student Bruce Beckley Jr.
Ask anyone who knew Bruce Beckley to describe him. Without fail, each memory would start with the same thing: his infectious smile.
"He had a big smile, a lovely smile — that's the first thing that struck me," says Lupe Ahedo, an assistant dean who served as Beckley's academic advisor at UW–Madison. "He was always very positive. Very eager to take guidance, open to feedback and welcomed encouragement and guidance. He was a happy, joyful young man, looking for good things to happen here at UW."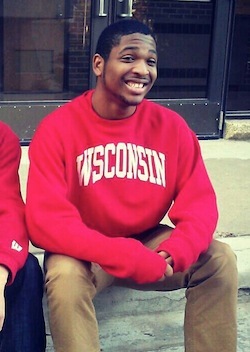 Bruce Beckley Jr.
Beckley, poised to begin his junior year at UW–Madison, drowned in a Waushara County lake in the early morning hours of Friday, July 5. He was 20. Services were held this past weekend in Milwaukee.
Bruce Horace Beckley Jr. was born on February 27, 1993 to Christine Beckley and Bruce Beckley Sr. In 2011, he graduated as valedictorian from the Wisconsin Conservatory of Lifelong Learning, a small public school in Milwaukee.
UW-Madison, Beckley was a participant in the Academic Advancement Program (AAP). According to Ahedo, Beckley had planned to declare a legal studies major. Halfway through his college career, he was still considering his options for future study, but he and Ahedo had discussed the possibility of attending law school.
In everything he did, his people skills were front and center.
"He liked people; a big part of that was getting to know faculty, interacting with staff," says Ahedo. "He was very involved in study groups, and with his peers. They really cherished him."
Beckley's personality shone in his work-study job at Rheta's, the campus dining room attached to Chadbourne Hall. At Rheta's, "he did a little bit of everything," says Cathy Ness, food services manager. Customers loved him, whether he worked in the convenience store area or dishing out hot food.
"We loved him in our dish room," says Ness. "It's not always the most glamorous position — you have to be fast, and a hard worker."
"There were … two options: you either loved Bruce, or you didn't know him."
Natasha Bentzen
Indeed, Beckley was an exceptional employee: getting difficult jobs done well while still having fun. In February, he won the Rheta's Rock Star Award, given to employees who have gone above and beyond their duties.
"It's very hard to sum up a person like that," says Natasha Bentzen, a student office assistant and friend. "We have 185 employees, so for someone like Bruce to stand out, he had to be someone special. This unit is smaller than others, so our whole unit is more like a family. It's a big loss."
With only 23 people on varying shifts during the summer months, the employees still managed to make a sizable contribution to Beckley's memorial fund.
"So many people wanted to help out," says Bentzen. "There were … two options: you either loved Bruce, or you didn't know him."
Those who did know him have many fond memories.
"The last time I saw him, he was standing in my office door, wishing me a happy summer and thanking me for … for being there for him," says Ahedo, her emotions close to the surface. "He loved life."
Contributions in Beckley's memory may be made via the Bruce Beckley Jr. Memorial Fund at Educators Credit Union, 7025 W. Appleton Ave., Milwaukee, WI 53216.