Campus financial initiative enters new phase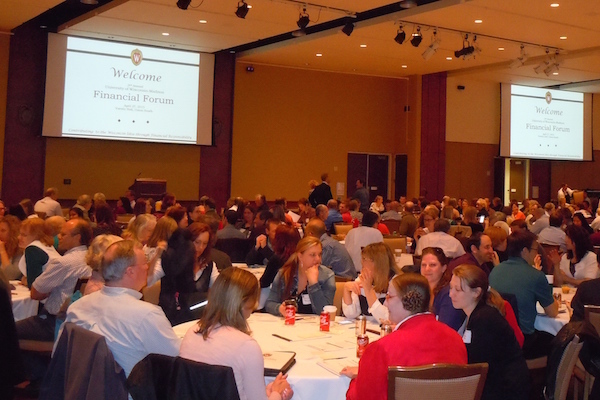 More than 300 faculty and staff attended the Second Annual UW–Madison Financial Forum at Union South on Monday, April 27.
Photo: Tara Vasby
A campuswide initiative aimed at ensuring effective financial stewardship at the University of Wisconsin–Madison is entering an important new phase.
Staff across campus are becoming more involved in the Financial Internal Controls Initiative, which is crucial to the success of UW–Madison's multibillion dollar research and teaching enterprise.
On Monday, more than 300 employees attended the 2015 Financial Forum at Union South. The afternoon forum included an update on the initiative's progress to date, as well as a roadmap of upcoming activities.
In addition, the first six of 11 identified process improvement projects will kick off within the next few months, with cross-campus teams working on areas such as cash handling, revenue and internal billing. Also, implementation will begin on recommendations made by a team on capital equipment tracking.
In this next phase, more than 60 employees will participate as team members on the various projects. In partnership with Administrative Process Redesign (APR), the initiative projects will employ the Lean Six Sigma methodology to collect customer requirements, study current processes and recommend improvements.  
Vice Chancellor for Finance and Administration Darrell Bazzell says strong and effective internal controls are needed to protect the university's resources, ensure the reliability of financial information and maintain compliance with all regulations. Ultimately, the university's reputation is at stake, he says.
"It's the responsibility of all of us to support this institution by working at the highest levels of fiscal integrity," Bazzell says. "This initiative will bring financial processes, approaches and systems across campus into alignment."
Introduced in February 2014, the initiative's vision is for UW–Madison to be the most effective public university from a business and administrative standpoint, thereby minimizing risk and ensuring a business structure that best supports mission-critical activities in teaching, research and outreach.
Over the past year, activities included a third-party risk assessment of financial practices, as well as the first of numerous process improvement projects. Sponsored by the chancellor, provost and vice chancellor for finance and administration, the project is led by Assistant Vice Chancellor for Business Services Martha Kerner.
"Given the scale of this initiative, we've been very deliberate in establishing the what, why and how leading into the next phase," says Kerner. "Now that the structure and plan are set, we're ready to ramp up the hands-on work."
The Financial Internal Controls Initiative also is benefitting from the support of campus expertise. At Monday's forum, Professor Terry Warfield, chair of the Department of Accounting and Information Systems in the Wisconsin School of Business, provided an overview of accounting principles and discussed the role of accounting and financial reporting in an organization, and UW–Madison in particular.
Kerner expressed her thanks for Warfield's expertise and guidance for campus.
"It's clearly an advantage to us all that we're able to leverage the knowledge within our own university to ensure that our staff has the skills to meet these needs," she says.
Get more information and updates
—Janet DesChenes