Badger Volunteers fall registration opens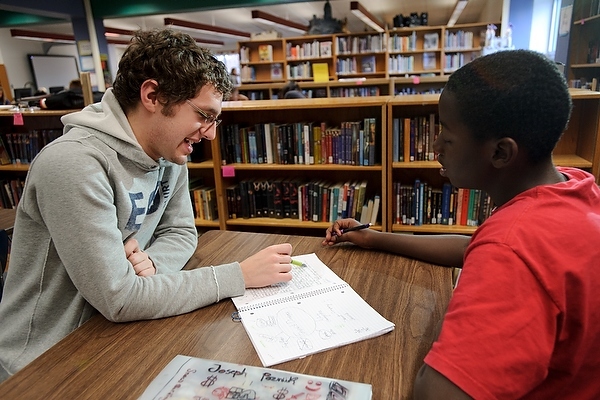 A Badger Volunteers member reviews a writing exercise with a student during a tutoring program at Velma Hamilton Middle School. Fall registration for the Badger Volunteers program is open through Sept. 11.
Photo: Jeff Miller
UW-Madison students are being invited to register for the largest volunteer program on campus.
Badger Volunteers, a program through the UW's Morgridge Center for Public Service, is designed to foster deeper connections between students and community partners by establishing a consistent, semester-long relationship.
Any UW student can join Badger Volunteers, which requires a weekly volunteer commitment of one to four hours for the fall semester. Students select community volunteer sites and serve in teams of fellow students at the same site for the entire semester.
Fall 2014 registration for the Badger Volunteers program runs through Sept. 11 online at the Morgridge Center's website.
"The program is designed to make volunteering accessible for students and to give them the chance to engage with their community to support ongoing needs," says program coordinator Steph Harrill, "and it's incredible to see how many students have that desire to work with their community."
"What most Badger Volunteers find is that they gain more from their community partner than they ever expected."
Kari Temkin
Badger Volunteers has experienced significant growth over the past year. In fall 2013, 500 students registered for the program. That number jumped to nearly 650 in spring 2014.
The program provides volunteer transportation support, including funding for cab, car-share and bike-share opportunities for sites farther away from campus. Student volunteers are required to attend an orientation and one education session outside of their regular volunteer time.
Students can search online for opportunities in three focus areas: education, sustainability and public health. However, students with any interests or skills can find an opportunity with Badger Volunteers. The program also enables students to gain new skills and find new interests.
This fall, nearly 80 area nonprofits, schools and municipalities have partnered with Badger Volunteers to offer students the opportunity to connect with their community.
"What most Badger Volunteers find is that they gain more from their community partner than they ever expected," says assistant coordinator Kari Temkin. "The benefits are definitely reciprocal."
Students with questions about the Badger Volunteers program should contact Kari Temkin at ktemkin@wisc.edu.
—Mark Bennett