School of the Arts: Creativity and camaraderie converge in the North Woods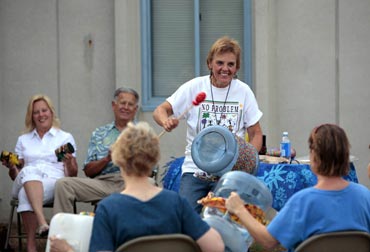 Photo: Steve Apps
It's a week up north with a three-part prize: art, heart and spirit.
The School of the Arts in Rhinelander, Wis., now in its 43rd year, offers its adult participants the chance to explore the arts in an enriching, supportive community.
A program of the University of Wisconsin-Madison's Division of Continuing Studies, the School of the Arts this year offered 59 five-day workshops in visual and computer arts, music, photography, theatre, writing and movement, all of which ran the week of July 24-28.
More than 300 people participated, many of them repeat students who savor the camaraderie as much as the course work.
"Everyone there is of one mind, whether singing, writing, painting – it's the arts," says Carol Marcott, a fiction writer from Rhinelander who has received most of her formal training at School of the Arts. This year represents her 17th year of enrollment at the school.
For Torrey Youngstrum, meeting new people is a big part of what attracted her to the school for the 12th time this year. "This is the week I took forward to every year," says Youngstrum, a potter who has taken photography and fiber art classes.
People interested in next year's school can join the mailing list for regular updates on new classes and programs.
"People make lifelong friends here," says Miranda McClenaghan, director of the School of the Arts. "I tell people, 'You're not just going to learn about art or perfect your art. It will change your life.' I'm told that by dozens of people as they prepare to leave each year."
The school had several new instructors this year, including Leslie Levine, a popular inspirational writer. McClenaghan says that other popular new offerings included two poetry seminars with Denise Sweet, Wisconsin poet laureate, and North Woods landscape painting with Thomas Kleese, an assistant professor at UW-Richland County. Also new was an arts-administration seminar designed to help artists develop the business side of their work.
School of the Arts, says McClenaghan, is the epitome of the Wisconsin Idea of bringing the expertise of the university to the people. "It brings the quality of a University of Wisconsin class in response to interests in the North Woods," she says.
— Pat Schneider