News for employees
Inside UW-Madison is the university's new electronic employee newsletter. It is delivered directly to approximately 27,000 employees and campus affiliates every Tuesday and Thursday morning.
Recent sightings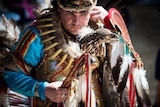 Spring Powwow
Head dancer Joe Syrette, a member of the Objiwe tribe from Bachewana, Ontario, holds an eagle head staff as numerous Native American tribes participate in a grand entry drumming and dance ceremony during a Spring Powwow held at the Stock Pavilion on April 5-6.
Featured expert
Goldberg, an expert on emerging infectious diseases of humans and animals, can discuss the bat-killing fungus now found in 25 states.