Recent sightings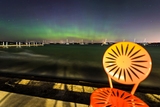 Light show
Northern lights glow above boats in Lake Mendota mooring field near the Memorial Union Terrace during a strong solar storm in the northern hemisphere at 12:49 a.m. on June 23. The solar storm is a phenomenon rarely visible this far south above the U.S.
Featured expert
Gwendolyn Leachman: Gay Marriage
Leachman, an expert on LGBT law and policy issues, social movement litigation, and employment discrimination, can discuss the U.S. Supreme Court's recent decision legalizing gay marriage.
UW-Madison has other experts who can also discuss the high court's decision on the Affordable Care Act.