News for employees
Inside UW-Madison is the university's new electronic employee newsletter. It is delivered directly to approximately 27,000 employees and campus affiliates every Tuesday and Thursday morning.
Recent sightings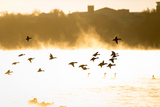 Blowing off steam
Geese and ducks fly above the steamy water of Lake Mendota as the sun rises above the UW campus skyline Friday, Nov. 21.
Recent sightings
Living Our Visions
Valeria Moffat, one of six young adults participating with Living Our Visions (LOV-Dane), shapes a clay bowl as part of an outreach pottery sampler course hosted at the Memorial Union's Wheelhouse Studios on Nov. 4.
Featured expert
Jerry O'Brien: Holiday Shopping
O'Brien, an expert on retail industry trends, can discuss the holiday shopping season and the impact on consumers.